Almost every company has a website. It is usually created at its launch, but after that, it is often forgotten. That's where many companies go wrong; your website is your company's business card, and contrary to what many believe, you need to constantly maintain and update it. Updating your website regularly is important, especially if you want to remain relevant to your customers and rank higher in the SERP (Search Engine Results Pages). An outdated website gets less traffic and visitors don't stay on it.
But what are the most common mistakes you can make with your website? And how can you avoid or solve them?
1. Poor or outdated design
Do you still have the same design as when you launched your website? Then it probably needs a refresh. Your website reflects the identity of your company and therefore it is important to regularly update your website according to the latest trends. Not only design is important. Whether your website is mobile-friendly, Google-friendly and connected to your social media channels is crucial. It certainly pays to invest in this, because a modern, easy-to-navigate website looks much more professional.
2. Your website loads slowly
Nothing is as annoying as a website that loads slowly. Moreover, Google can penalise you for this in the rankings. The biggest culprits of a slow website are image files that are too large. A well-built website automatically resizes its images so that visitors never have to download too many kilobytes. If your website does not do this automatically, the solution is very simple; reduce the files yourself. There are plenty of free tools with which you can do that, such as the websites tinyjpeg, BIRME or Squoosh (from Google).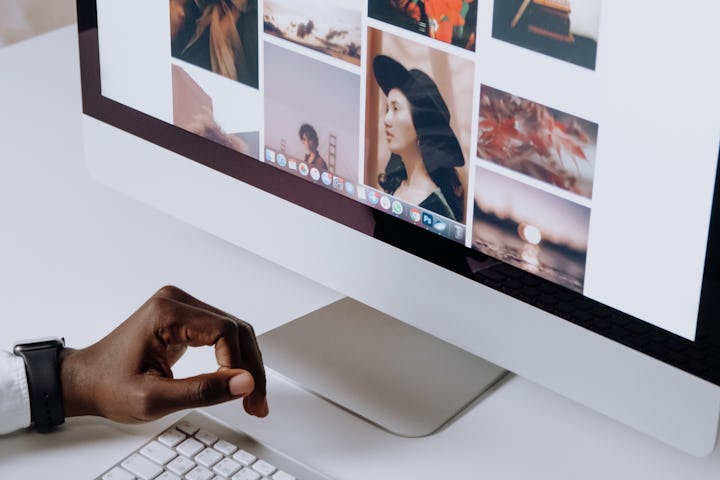 3. Unclear, blurred images
Images are one of the things that first draw the eye of the reader. Therefore, it is important that they are of good quality, in the style of your website. Don't have the resources to take professional pictures? Unsplash, Pexels and Shutterstock are just a few examples of websites that offer free stock photos.
4. Bad user journey
Do your users have a hard time finding what they are looking for? You can tell by a high bounce rate. Ideally, the user should arrive at his destination in no more than two clicks. You can increase the user-friendliness of your website by providing an efficient internal link strategy, an easy-to-use navigation menu, a search bar and CTAs.
5. Writing errors or poorly written text
Quality content is extremely important. Both for Google and for the readers. Writing errors on your website give the impression that you are sloppy and unprofessional. Therefore, take the time to proofread your texts yourself or have them proofread by a proofreader.
6. No clear way to contact your company
By hiding your contact details or not making them clear on your website, you could lose important leads and bookings. A live chat option is also a good strategic choice, if you have enough staff available of course.
7. Broken links
If you click on a link that does not work, you are redirected to a 404 page. This is frustrating for the visitor because he does not get to where he wanted to go. It can also have a negative effect on your brand, because as a company, can you guarantee quality if you cannot maintain your website?
So check regularly whether all your links are still working correctly.
8. Problems with security and certificates
It is crucial to keep the security settings of your website up-to-date. For example, Wordpress users should always have the most recent plugin updates. Something very important is an SSL (Secure Sockets Layer) certificate. This places a secure layer between a server and an internet browser, which secures the data that is transferred over the internet (via contact forms, account logins, etc.).
9. No regular back-up of your website
We speak from our own experience when we say that a backup is certainly not a superfluous luxury. A mistake is easily made and before you know it, you are deleting an important part of your website. Or you become the victim of hackers who completely destroy your website. Make sure that the backup location is separate from your website, so that you can restore it if the server goes down. Here's a tip: find out how to do that in advance.
10. It is difficult to share your content on social media channels
As a company, it is very important to link your social media profiles to your website. That way, visitors can click through from your website to your other profiles. Make sure the buttons are always visible and lead to the right page. Don't forget to add social buttons to your content like blogs, so visitors can share them on their social media channels.