An e-commerce story
2020 was not an easy year for entrepreneurs. A lot of companies had to go out of business on which some business plans fell into the water. But entrepreneurs are resilient. More than ever, webshops and online order platforms were set up at a rapid pace. 
Experience Lab got the chance to help build the online story of several entrepreneurs. Ateliers Gaston was one of them. We set up a webshop for the smallest budget and we were able to keep e-commerce running with an adapted ordering platform.
A three-digit webshop for Ateliers Gaston
Gaston has had a fascination with making clothing since he was a child. Recently, he found his way in it and finally took the time to fully develop that passion. Ateliers Gaston was born: a daring clothing brand with sustainable clothing made from old fabrics. This resulted in a one of a kind collection of contemporary fashion with fabrics from the past. The pieces were shared on both Instagram and the website. In the midst of lockdown, Ateliers Gaston teamed up with Experience Lab to create a sleek, international Shopify - webshop.
The foundation of a great webshop
Before we could load the products into the Shopify webshop, it was important to build the foundation completely. First of all, the info about Ateliers Gaston as a company: who, what and where. Then Gaston had to make some choices about selling and shipping his products. He defined the payment, shipping, and return methods. 
Shipping, returns, and communication
Gaston went for the ultimate customer experience and now offers free shipping and returns within the Benelux. For the rest of the world, Gaston charges a fixed price to ship. Payment is done through Mollie, which in turn allows iDEAL, Bancontact, Paypal, or credit card. Mollie is a payment processing company operating within Europe. Using a simple and clear payment API, Mollie offers different payment methods uniformly. An advantage of Mollie is that you will only pay for a paid transaction for the tool. 
The return policy was defined by Ateliers Gaston, using Shopify's guidelines. The privacy policy was also fixed in advance. This way, both buyer and seller are sure of their rights and obligations. Although Shopify has its own privacy policy, the seller must write its own. Together with the Terms of Service, this is a legal agreement between buyer and seller. We guided Gaston through these steps so he could make the right choices.
From template to own branding
With the foundation that Gaston of Ateliers Gaston set up, we could get to work on the design of the webshop. We started from one of the templates of Shopify, which we then completely adjusted to the branding of Ateliers Gaston. Despite a limited budget, we were able to provide an attractive design. In addition to the numerous options within Shopify to customize the styles, we also added the necessary HTML, CSS, and Liquid code to achieve the desired result.
A nice addition to the webshop is the possibility for the buyer to donate something extra to Ateliers Gaston at the end of the checkout, to support this local business.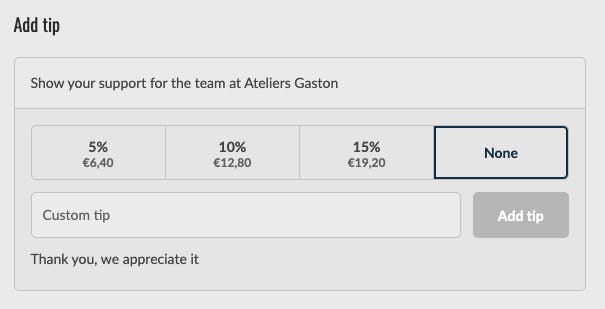 Products on a webshop
When the design of the webshop was more or less finished, the loading of the products could begin. The webshop shows how many pieces are still available, which at Ateliers Gaston with one of a kind products, is often only one. 
Orders, discounts, special requests can all be consulted in Shopify's dashboard. Ateliers Gaston is a small business, which made the process easier. The limited product quantity allowed a custom description and title to be added manually for each product. We went through the entire process with Gaston, in such a way that he was able to work on it himself once the webshop was up and running.
Keeping a webshop up and running
The webshop of Ateliers Gaston is up and running. Together with Experience Lab, Gaston went through the process of setting up the webshop. After following a small workshop, he was able to start working with it himself. The dashboard allows Gaston to monitor orders, revenue, and visitors. An investment of only three digits led to an operating, beautiful webshop, that is up to date with the e-commerce trend.